The McAfee Advanced Threat Research team today published the McAfee Labs Threats Report: November 2020.
In this edition, we follow our preceding McAfee Labs COVID-19 Threats Report with more research and data designed to help you better protect your enterprise's productivity and viability during challenging times.
What a year so far! The first quarter of 2020 included a rush of malicious actors leveraging COVID-19, and the trend only increased in the second quarter. For example, McAfee's global network of more than a billion sensors registered a 605% increase in total Q2 COVID-19-themed threat detections. It's an example of updated pandemic-related threats you can track on our McAfee COVID-19 Threats Dashboard.
This edition of our threat report also looks at other notable Q2 20 malware increases including:
Attacks on cloud services users reached nearly 7.5 million
New malware samples grew 11.5%, averaging 419 new threats per minute
PowerShell malware surged 117%
To help ensure your data and systems remain secure, we have also made available the MVISION Insights preview dashboard to demonstrate the prevalence of such current campaigns. This dashboard also provides access to the Yara rules, IoCs, and mapping of such campaigns against the MITRE ATT&CK Framework. We update these campaigns on a weekly basis so, in essence, this threat report has an accompanying dashboard with more detail on specific campaigns.
I certainly hope that you see the value not only in the data presented within the threats report, but also with the dashboards. Your feedback is important to us.
Stay safe.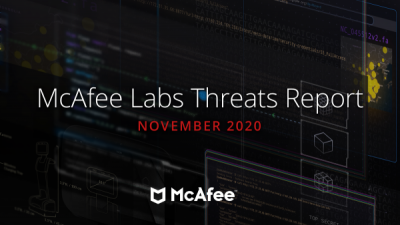 What a year so far! We exited the first quarter of 2020 battling the rush of malicious actors leveraging COVID-19, and in the second quarter there are no signs that these attacks seem to be abating.
Stay Updated
Follow us to stay updated on all things McAfee and on top of the latest consumer and mobile security threats.