How to Dodge Without Defriending Pesky Peeps Online
Opinionated, vain, get-under-your-skin-kind-of-people. You've come across them on Facebook from time to time and your kids' world isn't so different. A parent's role comes in teaching kids the balance between tolerance and knowing the point when they should graciously disconnect without hurting someone's feelings.
I received a glimpse of my own teens' frustration last week when a very loud "Ugh!" nearly busted through the living room wall. My daughter's overly dramatic, shocked, face-pasted-to-screen look said it all.
"Seriously? She posted 26 selfies in 24 hours! That means she had to set her alarm to get up to post a few of these," my daughter groaned. "And that kid from grade school you just thought was sooooo sweet, mom? Well, not so much—all he does now is skateboard and moon everyone in his videos. He's just gross."
"Just de-friend them," I say with a casual laugh.
She looks up at me as if I just asked her to go rob the neighbors' house.
"I can't do that!" she snaps. "They would notice, unfollow me, and never talk to me again. Geeze, mom . . . I don't hate them!"
I don't get her passion on the topic but I don't have to. I personally have a several thousand friends on Facebook and probably wouldn't notice if half of them de-friended me on the same day.
But that is me. And this matters to her. And what matters to your kids online needs to matter to you.
Lately they might care about . . .
Followers and likes on Instagram.
Friends and likes on Facebook.
Followers and re-tweets on Twitter.
Followers on Tumblr.
Vine and YouTube views and followers.
Whether we like it or not—or agree or not—numbers play a role in a teen's digital world. In fact they use the phrase "Instagram famous" or "Vine famous" as a coveted adjective in describing a person's online popularity. Savvy, aspiring teen actors, writers, models, and musicians understand the marketing power of these networks and they are working every angle. Instagram famous is getting so many followers on Instagram that you've made yourself as popular as some celebrities by growing your digital platform. Some teens have enormous Instagram popularity that is creeping toward Justin Bieber status. One teen even snagged a job as Fandango's correspondent this week at the Oscars for his influence on Twitter!
Safety Note: Trying to build big numbers in online social networks poses a safety risk for kids' because they unlock their profiles to get more  followers. So be sure to check your child's account settings and talk to them about weighing the risks of mass followers.
There is a way to hide without dividing. You can offer your child a few solutions to ease the burden of dealing with irritating people—and potentially dodge a conflict.
On Facebook
You can easily adjust what you see in your News Feed by sorting which stories you see first, by using friend lists, and by managing which friends, Pages and app stories you want to see. If a "friend" is offensive or inappropriate but you don't want to cause a conflict, these are great options.
A) Filter by friend lists
Put your top friends on a list. Click one of your lists the left side of your home page (under your avatar) to see stories just from the people on that list.
B) Hide from feed, option #1
To unfollow a person without de-friending, go to that person's Timeline. From there, click the Following button at the top of the page. Friends will not know if you've chosen to unfollow them. You will still be "friends" with the person, but you'll no longer see posts in your News Feed.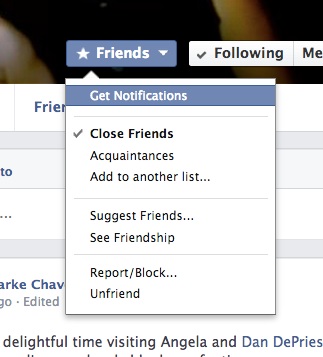 C) Hide from feed, option #2
If pesky friend's post appears in your news feed view you can also hover over the down arrow to the top right
of their post and you will see the option "I don't want to see this." It's a tiny option many people overlook but it's a quick and easy solution.
To keep the peace among "friends" sometimes it's wise to block certain friends from your feed if that friend seems to comment on every photo or post (stalking as some put it). You can keep them from seeing your posts in their feed without de-friending them. Here's how:
D) Manage which "friends" are able to see what you post
When you share something on your Timeline, use the audience selector option (friend icon in your status box) to choose whom its shared with. If you want to change who you shared something with after you post it, return to the audience selector and pick a new audience.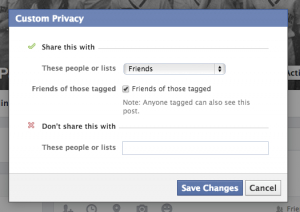 Click the gear icon at the top right of any Facebook page and choose Settings OR an easier way is to go into your post box and use the drop down menu under the Friends icon to achieve the same thing.
Select Privacy from the left menu (see graphic on right)
Under the Who can see my stuff? section, click Limit the audience for posts I've shared with friends of friends or Public
You can even limit a person from browsing your pasts posts. Click Limit Old Posts
Instagram 
If you don't want to block someone on Instagram, which is currently the only option, there is a client app called Primary. Primary allows you to filter out unwanted photos, create lists of people and tags on Instagram, which would solve the problem.
Twitter 
To hide tweeters without unfollowing them or hurting feelings, show your child how to create Twitter lists. Then, anytime she logs on, she clicks on her "A list" for instance (which is locked) and only sees the feed of the people she wants to talk to. All friends will still appear in the main feed but she will do all her engagement from her lists.
To create a Twitter list:
Go to your Lists page. This can be done via the gear icon drop down menu in the top right navigation bar or by going to your profile page and clicking on Lists.
Click Create list.
Enter the name of your list, a short description of the list, and select if you want the list to be private (only accessible to you) or public (anyone can subscribe to the list).
Click Save list.
These are small, easy moves that may make a big difference for your kids. And, it could save a few friendships along the way.