Even as the internet kept us connected with family and friends during the pandemic, people remain understandably eager to reconnect in person as vaccines roll out and restrictions ease. In fact, people are making travel plans accordingly. Nearly two-thirds (64%) of people worldwide said that they're planning to travel for leisure this year. And, as always, they're bringing their devices with them. 
These are a few of the top-line findings from our 2021 Consumer Security Mindset Report: Travel Edition, which garnered responses from more than 11,000 people aged 18 to 75 in eleven countries across North and South America, Europe, Asia, and the South Pacific. More broadly, this survey provides insight into people's plans and preferences for travel and how they view online security while traveling—particularly after relying heavily on the internet at home during the pandemic for more than a year. 
People are
m
ore 
c
onnected and 
m
ore 
p
rotected
 in 2021
Indeed, people feel more connected by the internet today than they did prior to the onset of COVID-19 with a significant 76% of respondents stating as much. In light of that increasing reliance on the internet, 61% reported implementing more protection for their devices, connected homes, and online activities in general. This was particularly the case in nations like India (86%), Mexico (79%), and Brazil (68%). However, other nations trended much lower than the average, such as the UK (47%) and France (34%). In the U.S., that figure was lower than the international trend with roughly half of the people implementing more protection. 

People are planning on traveling once again
As called out earlier, people are taking the first steps toward leisure travel once again. Only 12% of people in the U.S said that they were planning on traveling internationally compared to a global average of 16%, while nations like Singapore (30%), the UK (25%), and Germany (24%) trending well above the average. In contrast, the outlook for domestic leisure travel appears exceptionally strong, particularly for respondents in Australia (88%), India (79%) and the U.S. (77%) who plan to travel as such. 
The pandemic has shaped people's views on where they'd like to stay, with 62% stating that their preference for lodging has changed this year. Well over one-third of respondents in the U.S., Australia, Indonesia, and Canada said that staying with family and friends as their preferred option. Globally speaking, hotel and motel accommodations topped the list at 41%. Vacation home rentals entered the mix as well with roughly 25% of respondents saying a rental was part of their plan. 
Current
a
ttitudes on 
c
onnecting to 
Wi-Fi while traveling
Yet how have attitudes changed toward connecting to networks outside of the home, particularly after the past year saw the majority of people improve their security at home? 
For a baseline, we found that 80% of respondents said that they've connected a device when visiting a home or place that is not their own. The devices they mentioned most include laptops, streaming devices, Bluetooth speakers, and gaming devices as well. To connect those devices, they'll use the home network of the friend's or rental home where they're staying (48%) or the network provided by the hotel where they're staying (48%). And while in-between places, public Wi-Fi remains a popular means of network connection at 50%, along with airport Wi-Fi (41%) plus transit Wi-Fi (31%).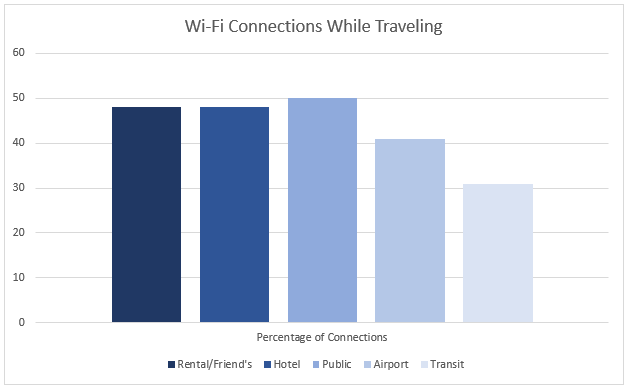 As to how secure people feel on those networks, the answer varies greatly. While people expect low risk or no risk at all on their home network (85%) or a friend's home (73%), they're far less apt to trust other networks. In general, they see Wi-Fi networks as most vulnerable to cyber threats than any other network or device at 68% and feel most at risk connecting to networks in hotels (25%) and rentals (21%).  
Despite these findings, only 47% people said they take the same online security measures that they take at home when they're on holiday or vacation. Similarly, just 52% of people check if the network they are joining is secure before they connect. Of that, 22% say they don't check because they feel the network poses no threat and another 26% say that they simply don't know how to check. 
Protecting your computers and devices while 
you're
 away
As travel becomes an actual possibility for people once again, it's an opportunity to remember just how important security is outside the home. Whether people are at home or away, there will be banking to do, chances to shop online, and moments to stream a few shows while at the airport or on the road. Protecting laptops and mobile devices for travel become extra important when using public, airport, and public Wi-Fi, as those networks can expose people to more threats than their home networks.  
With that, here are five things people can do to protect themselves and others while traveling: 
Connect with caution.

 Be cautious when connecting to public Wi-Fi while on vacation and make

 

sure the Wi-Fi is secure and attached to a trusted source. Ensure that you 

don't

 conduct any

 

fin

ancial transactions or share any personal details while on public Wi-Fi.

 

Look into using a virtual private network (VPN).

 A 

VPN

 can provide bank-grade encryption that protects your data while you shop, bank, or simply surf online when connected to public Wi-Fi.

 

Consider a 

holistic security solution

.

 Understand what tools are available to you 

in order to

 give

 

you peace of mind that your identity and personal information across all of our devices are

 

safeguarded this summer travel season.

 

Update your software.

 Before you travel, check for any software updates on your devices.

 

Updates often fix security bugs 

in addition to adding features or providing performance boosts.

 

Keep devices protected and close.

 Distracted vacationers are the perfect target for thieves

 

looking to steal devices

—whether 

that's

 

a phone, laptop, tablet, or game. Ensure accounts have multi-factor authentication to double-check the authenticity of digital users in case the device gets in the

 

wrong hands.
Stay Updated
Follow us to stay updated on all things McAfee and on top of the latest consumer and mobile security threats.