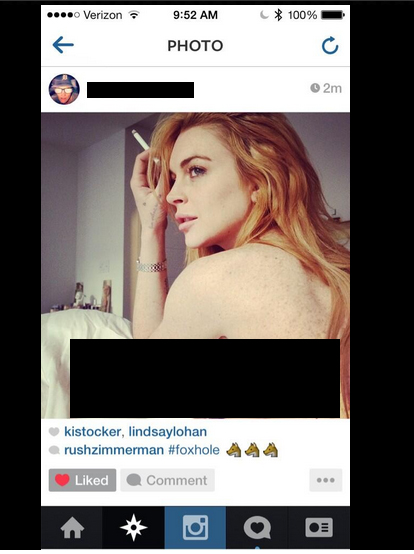 Almost weekly I read that yet another young celebrity I once considered a safe role model for my teen is posting risqué selfies online. And, it seems the bizarre surge in stars sharing photos of themselves showering, making out, sunbathing, or just hanging around naked is on the rise. No doubt some of the child stars our kids grew up loving on television are now digitally off limits.
To be fair most of these celebrities are now in their 20s and simply echoing the impulsive behavior of their Hollywood peers. But that doesn't change the fact that their young fan base still includes our kids.
Time flies. And everyone has the right to grow up and do stupid things along the way. But what repeatedly drops my jaw as a mom is that much of this viral adult content online—just a few short years ago—was considered obscene and legally banned from viewers under 18. Currently, there's no legal (or digital) barricade to keep this 24/7 river of adult content from our kids with the exception of commercial filtering tools.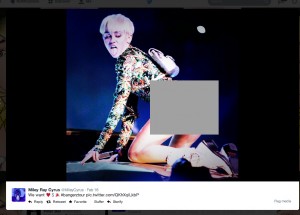 My fear is likely your fear: that this generation of young celebrities will usher in the extinction of physical modesty. This sexy selfie craze further amplifies social issues already plaguing our kids such as body image disorders, adult content addiction, narcissism, and low self-esteem.
My head is still spinning as I reconcile that my daughter's childhood television bestie Hannah Montana (Miley Cyrus) now spends a majority of her waking hours posting sexual photos and making salacious public appearances.
Be warned: Arguments will ensue when you insist your kids stop following the celebrities they admire.
You may hear:
"It's not that bad mom, geeze, it was just one picture. Everyone makes mistakes."
"Stop being so judgmental, Dad!"
"But Mom, look at all the other inspiring stuff they post."
 "How come you let me go to their concert but I can't follow them online?"
"All celebrities post that stuff mom, it doesn't affect me."
"But they do the same stuff on TV, what's the big deal?"
And, here's my favorite: "C'mon Mom, you had celebrity crushes too when you were young, what's the difference?"
The Internet is the difference—the very big difference.
This below list is in no way a blacklist, and it's certainly not exhaustive. But it's a list that's being discussed in my own home at the moment. I'm sure these artists are promoting their craft and posting content content their fans find interesting. But, if your child is between 11-18 and you want to shield them from adult content, profanity, or behaviors that rival your family values, then it's time for a massive "celebrity unfollow." Note that most of the inappropriate content referenced appears on Twitter, Instagram, or Tumblr.
Just a few risqué celebs:
Miley Cyrus, Lindsay Lohan, Amanda Bynes. Yes—these three young celebrities are obvious choices. But some of you may really be out of the loop, so we chose to list them. These celebs post nude or sexual photos as well as profanity (some waaaay more than others).
The Kardashians. Expect from their social channels what you see on their reality show—a surplus of narcissism, materialism, and sexually suggestive content (oh, and a whole lot of Photoshopped pics). As role models for the younger crowd, this family misses the mark by a long shot (for this mom). Note the younger sisters, Kendell and Kylie Jenner, are coming up and have already built a very influential platform with tweens and teens.
Nicki Minaj. Our entire family enjoyed Minaj as a judge on American Idol last season, but on Instagram she's off limits to the younger crowd. Her feed includes a library of sexual photos anyone can access.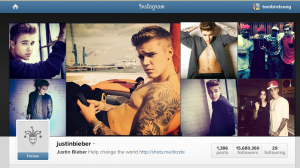 Lady Gaga. Our kids may sing her pop anthems at the top of their lungs but the younger crowd needs to steer clear of Gaga's social media feeds. While the artistic quality of her content is impressive, there is a fair amount of racy photos and an over abundance of selfies.
Rihanna. This talented R&B artist is uninhibited when it comes to posting risqué photos on Instagram. It's a good idea keep tweens and teens off her social networks.
Dylan Sprouse. Yes, that Dylan Sprouse—one half of The Disney Channel's Suite Life of Zach and Cody. Sprouse has a fully nude picture floating around online that your kids have likely already seen unless your computer is equipped with filtering software.
Selena Gomez. My mom radar is confused on this 21 year-old star of Wizards of Waverly Place. Her Instagram and Twitter feeds are encouraging to young girls and clean but not long ago, she posted a nude photo to Instagram. It's a good idea to monitor the Gomez feed. We have high hopes this celebrity in our house.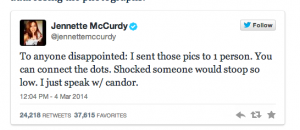 Justin Bieber. The "Biebs," now 20, has definitely grown up and changed his lifestyle (according to recent police reports). While his online feeds are mostly promotional and mellow enough for the younger crowd (he's been coached), it's the flood of shirtless (suggestive) selfies that inclines me to temper my daughter's access to his social feeds.
We all know there's a library of sexual celebrity content online that flies in the face of the family values and parenting goals many of us share. So we will reiterate that your first line of defense in keeping the adult content out is A) filtering software B) consistent communication and device monitoring C) being involved in your child's life, which includes what's going on in his or her online communities.
How do you monitor the content your child consumes online? Please share!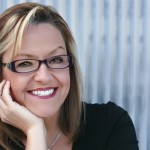 Stay Updated
Follow us to stay updated on all things McAfee and on top of the latest consumer and mobile security threats.