Scammers now have new tools to lure people who are looking for love online, by reeling in potential victims with artificial intelligence (AI). Thanks to the aid of popular AI tools like ChatGPT, scammers can potentially generate anything from seemingly innocent intro chats to full-blown love letters in seconds, all ready to dupe their victims on demand. 
Tactics like these are typical of "catfishing" in dating and romance scams, where the scammer creates a phony online persona and uses it to lure their victim into a relationship for financial gain. Think of it as a bait-and-hook approach, where the promise of love is the bait, and theft is the hook. 
And as explained above, baiting that hook just got far easier with AI.  
Sound farfetched? After all, who would fall for such a thing? It turns out that a sophisticated AI chatbot can sound an awful lot like a real person seeking romance. In our latest "Modern Love" research report, we presented a little love letter to more than 5,000 people worldwide and asked them if it was written by a person or by AI: 
My dearest, 
The moment I laid eyes on you, I knew that my heart would forever be yours. Your beauty, both inside and out, is unmatched and your kind and loving spirit only adds to my admiration for you. 
You are my heart, my soul, my everything. I cannot imagine a life without you, and I will do everything in my power to make you happy. I love you now and forever. 
Forever yours … 
One-third of the people (33%) thought that a person wrote this letter, 31% said an AI wrote it, and 36% said they couldn't tell one way or another.  
What did you think? If you said that a person wrote the letter, you got hoodwinked. An AI wrote it. 
Two out of three people will talk to strangers online
The implications are concerning. Put plainly, scammers can turn on the charm practically at will with AI, generating high volumes of romance-laden content for potentially high volumes of victims. And as our research indicates, plenty of people are ready to soak it up.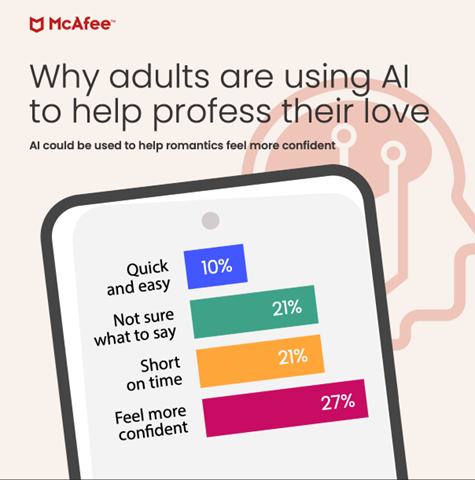 Worldwide, we found: 
Two out of three people (66%) said that they had been contacted by a stranger through social media or SMS and then started to chat with them regularly.

 

Facebook and Facebook Messenger (39%) and Instagram and Instagram direct messages (33%) are the most mentioned social media platforms used by strangers to start chatting.

 
Chatting with a stranger is one thing. Yet how often did it lead to a request for money or other personal information? More than half the time. 
In chats with strangers, 55% of people said that the stranger asked them to transfer money.

 

In about 34% of those cases, this involved less than $500, but in 20% of those cases the amount asked for was more than $10,000.

 

Further, 57% of people surveyed worldwide said that they were asked to share personal information through a dating app or social media.

 

This most often included their phone number (30%), an intimate photo or video (20%), or their email address (18%).

 

It also included requests for their government or tax ID number (9%) or account passwords for social media, email, or banking (8%).

 
How do you know you or someone else is caught up in an online dating or romance scam?
Scammers love a good story, one that's intriguing enough to be believable, such as holding a somewhat exotic job outside of the country. Common tales include drilling on an offshore oil rig, working as a doctor for an international relief organization, or typically some sort of job that prevents them from meeting up in person. 
Luckily, this is where many people start to catch on. In our research, people said they found out they were being catfished when: 
The person was never able to meet in person or do a video call – 39%

 

They searched for the scammer's photo online and found out that it was fake – 32%

 

The person asked for personally identifiable information – 29%

 

The person didn't want to talk on the phone – 27%

 

There were too many typos or sentences didn't make sense – 26%

 
Of course, the true telltale sign of an online dating or romance scam is when the scammer asks for money. The scammer includes a little story with that request too, usually revolving around some sort of hardship. They may say they need to pay for travel or medical expenses, a visa or other travel documents, or even customs fees to retrieve an item that they say is stuck in the mail. There's always some kind of twist or intriguing complication that seems just reasonable enough such that the victim falls for it. 
Scammers will often favor payment via wire transfers, gift cards, and reloadable debit cards, because they're like cash in many regards—once you fork over that money, it's as good as gone. These forms of payment offer few protections in the event of scam, theft, or loss, unlike a credit card charge that you can contest or cancel with the credit card company. Unsurprisingly, scammers have also added cryptocurrency to that list because it's notoriously difficult to trace and recover.  
In all, a romance scammer will typically look for the easiest payment method that's the most difficult to contest, reimburse, or trace back to the recipient. Requests for money, particularly in these forms, should raise a major red flag. 
How do you avoid getting tangled up in an online dating or romance scam?
What makes online dating and romance scams so malicious, and so difficult to sniff out, is that scammers prey on people's emotions. This is love we're talking about, after all. People may not always think or act clearly to the extent that they may wave away their doubts—or even defend the scammer when friends or family confront them on the relationship.  
However, an honest look at yourself and the relationship you're in provides some of the best guidance around when it comes to meeting new people online: 
Talk to someone you trust about this new love interest. It can be easy to miss things that don't add up. So, pay attention to friends and family if they are concerned.

 

Take the relationship slowly. Ask questions and look for inconsistent answers.

 

Try a reverse-image search of any profile pictures the person uses. If they're associated with another name or with details that don't match up, it's a scam.

 

And never send money or gifts to someone you haven't met in person—even if they send you money first.

 
Scammers, although arguably heartless, are still human. They make mistakes. The stories they concoct are just that. Stories. They may jumble their details, get their times and dates all wrong, or simply get caught in an apparent lie. Also, keep in mind that some scammers may be working on several victims at once, which is yet another opportunity for them to get confused and slip up. 
In the cases where scammers may use AI tools to pad their conversations, you can look for several other signs. AI still isn't always the smoothest operator when it comes to language. AI often uses short sentences and reuses the same words, and sometimes it generates a lot of content without saying much at all. What you're reading may seem to lack a certain … substance.  
Prevent online dating and romance scams from happening to you
Scammers are likely to use all kinds of openers. That text you got from an unknown number that says, "Hi, where are you? We're still meeting for lunch, right?" or that out-of-the-blue friend request on social media are a couple examples. Yet before that, the scammer had to track down your number or profile some way or somehow. Chances are, all they needed to do was a little digging around online.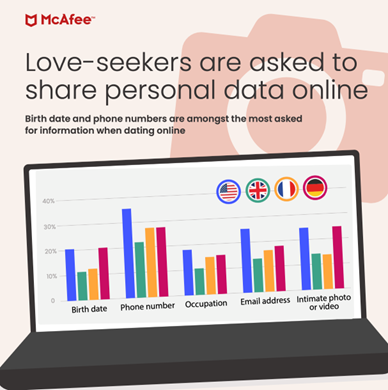 Say "no" to strangers bearing friend requests
Be critical of the invitations you receive. Out-and-out strangers could be more than a romance scammer, they could be a fake account designed to gather information on users for purposes of cybercrime, or they can be an account designed to spread false information. There are plenty of them too. In fact, in Q3 of 2022 alone, Facebook took action on 1.5 billion fake accounts. Reject requests from strangers. 
Want fewer scam texts and messages? Clean up your personal data
How did that scammer get your phone number or contact information in the first place? It could have come from a data broker site. Data brokers are part of a global data economy estimated at $200 billion U.S. dollars a year fueled by thousands of data points on billions of people scraped from public records, social media, third-party sources, and sometimes other data broker sites as well. With info from data broker sites, scammers compile huge lists of potential victims for their spammy texts and calls. 
Our Personal Data Cleanup can help remove your info from those sites for you. Personal Data Cleanup scans some of the riskiest data broker sites and shows you which ones are selling your personal info. It also provides guidance on how you can remove your data from those sites and can even manage the removal for you depending on your plan. ​It also monitors those sites, so if your info gets posted again, you can request its removal again. 
Protect yourself and your devices
Online protection software can protect you from clicking on malicious links that a scammer may send you online, while also steering you clear of other threats like viruses, ransomware, and phishing attacks in general. It can look out for your personal information as well, protecting your privacy by monitoring the dark web for your email, SSN, bank accounts, credit cards, and other info that a scammer or identity thief may put to use. With identity theft a rather commonplace occurrence today, security software is really a must. 
Who else will pen a love letter with AI this Valentine's Day?
Worldwide, we found that 30% of men (and 26% of all adults) said they plan to use artificial intelligence tools to put their feelings into words. Yet, there's a flipside. We also found that 49% of respondents said they'd be offended if they found out the note they received had been produced by a machine.  
So why are people turning to AI? The most popular reason given for using AI as a ghostwriter was that it would make the sender feel more confident (27%), while others cited lack of time (21%) or lack of inspiration (also 21%), while 10% said it would just be quicker and easier and that they didn't think they'd get found out. 
It's also worth noting that true romance seekers have called upon AI to kick off chats in dating apps, which might take the form of an ice-breaking joke or wistful comment. Likewise, AI-enabled apps have started cropping up in app stores, which can coach you through a conversation based on contextual cues like asking someone out or rescheduling a date. Some can even create AI-generated art on demand to share a feeling through an image.  
It may be better than opening a conversation with an otherwise dull "hey," yet as our research shows, there are risks involved if people lean on it too heavily—and prove to be quite a different person when they start talking on their own. 
AI is only as good or bad as the way people use it
It's important to remember that an AI chatbot like ChatGPT is a tool. It's not inherently good or bad. It's all in the hands of the user and how they choose to apply it. And in the case of scammers, AI chatbots have the potential to do a lot of harm. 
However, you can protect yourself. In fact, you can still spot online dating and romance scams in much the same way as before. They still follow certain rules and share the same signs. If anything, the one thing that has changed is this: reading messages today calls for extra scrutiny. It will take a sharp eye to tell what's real and what's fake.  
As our research showed, online dating and romance scams begin and end with you. Thinking back to what we learned as children about "stranger danger" goes a long way here. Be suspicious and, better yet, don't engage. Go about your way. And if you do find yourself chatting with someone who requests money or personal information, end it. Painful as the decision may be, it's the right decision. No true friend or partner, one you've never seen or met, would rightfully ask that of you. 
Editor's Note: 
Online dating and romance scams are a crime. If you think that you or someone you know has fallen victim to one, report it to your authorities and appropriate government agencies. In the case of identity theft or loss of personal information, our knowledge base article on identity theft offers suggestions for the specific steps you can take in specific countries, along with helpful links for local authorities that you can turn to for reporting and assistance. 
Stay Updated
Follow us to stay updated on all things McAfee and on top of the latest consumer and mobile security threats.