What is Social Engineering?
No, it's not some new engineering field to develop social media sites. Social engineering has been around as long as the con artist has been around. The terms stems from the social science world where social engineering is deemed as an act of psychological manipulation.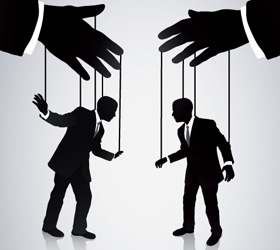 In our tech-laden world of today, social engineering still involves deceit but it's used to deceive you into giving up personal or sensitive information for the bad guys' financial gain. Social engineering can take many forms from an email, phone call, social networking site, text messages, etc., but they all have the same intent—to get you to part with valuable information.
Any one of us can be a target. And social engineering continues to be a tool that cybercriminals use because it works. They play on our emotions and our innate sense to want to trust others and be helpful. The also rely on the fact that many of us are not aware of the value of the information we possess and are careless about protecting it.
For instance, after major natural disasters or major news topics, like a hurricane or earthquake, cybercriminals sent out scores of bogus emails, calling for sympathy and donations for the victims, just so they could line their pockets.
In addition to sympathy, the bad guys also barter in fear, curiosity and greed. From emails offering fake lottery winnings (greed), to dangerous download sites advertising a preview of the latest Lady Gaga song (curiosity), to devious popup messages that warn you that your computer is at risk (fear), today's cybercriminals are masters at manipulating our emotions.
And because their tricks often look legitimate, it can be hard for you to identify them. You could wind up accidentally infecting your machine, or sharing personal and financial information, potentially leading to monetary loss and even identity theft.
How can you protect yourself?
Never respond to a message from someone you don't know and never click on a link in an unsolicited message, including instant messages, and any time the phone rings and they are requesting personal information consider it a scam.
Be suspicious of any offer that seems too good to be true, such as the lure of receiving thousands of dollars just for doing a wire transfer for someone else.
If you are unsure whether a request is legitimate, check for telltale signs that it could be a fake, such as typos and incorrect grammar. If you are still unsure, contact the company or organization directly. Financial institutions, and most sites, don't send emails or text messages asking for your user name and password information.
When using social networking sites, don't accept friend requests from people you don't know, and limit the amount of personal information you post to your profile.
Consider using a safe browsing tool such as McAfee® SiteAdvisor® software, which tells you whether a website is safe right in your search results, helping you navigate away from phony sites.
Make sure your all your devices are protected with comprehensive security, like McAfee LiveSafe™ service that protects all your PCs, Macs, smartphones and tablets.
So remember to ask yourself if this is really legit, the next time you get a message that plays on your emotions. Stay safe online!