This is the final in a series of three articles covering digital wellness programs in the workplace. Here we explore what organizations have to say about online protection and the role that digital wellness plays in their workplace today. 
The top three benefits in the workplace today? Healthcare and retirement benefits are easy picks. Yet weighing in a strong third — digital wellness benefits.  
HR pros list digital wellness as a top-three benefit in the workplace, ranking only behind healthcare and retirement benefits.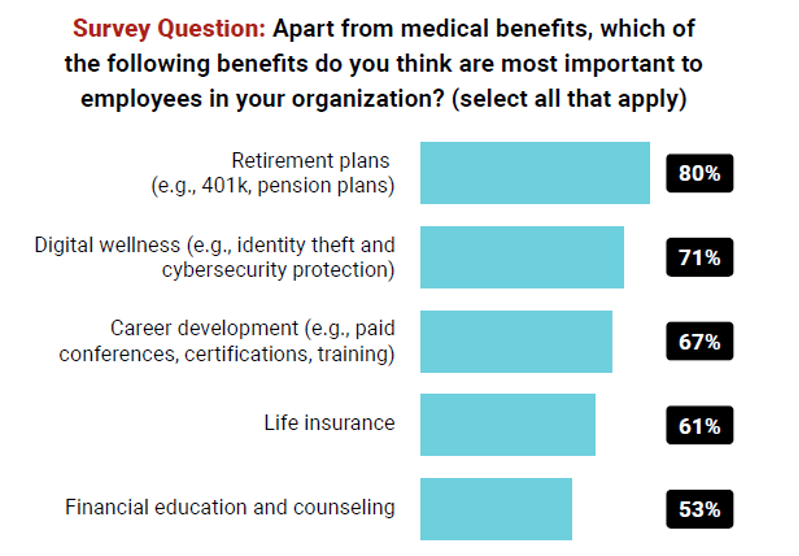 That's one of the many findings we revealed in our joint research with HR.com, conducted in the first quarter of 2023. We reached out to nearly 250 HR pros who are knowledgeable about benefits, data privacy, and cybersecurity in organizations of 1,000 employees or more. Across the board, they said digital wellness plays an important role in their organization for several reasons. Collectively, they said it's effective or highly effective at enhancing security (94%), retaining employees (87%), and improving employee safety and wellbeing (86%). 
Moreover, 96% of them say that digital wellness in the workplace is more important than ever.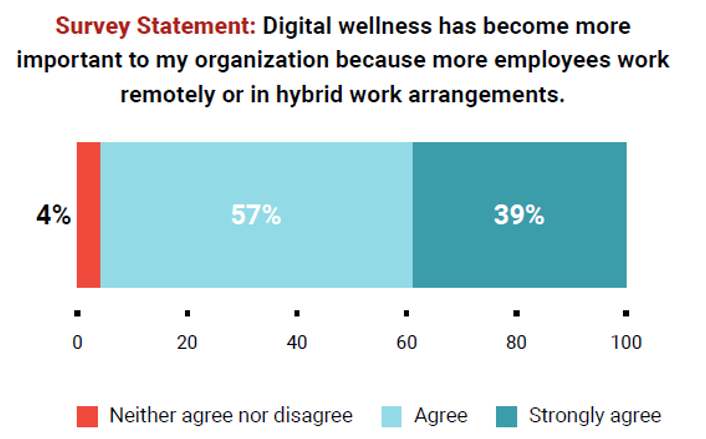 With that, we also gained a sense as to deeply rooted remote and hybrid work have become. We found that 71% of organizations have at least a quarter of their workforce working remotely at least some of the time. Given that 1 in 2 employees worldwide use at least one personal device for work, it makes sense that HR pros have prioritized digital wellness in their organizations. 
Yet what does a digital wellness benefit entail? 
Building out a strong digital wellness benefit.
As shared in our earlier article, we found little consistency between digital wellness offerings. The most common initiative HR pros employ is offering antivirus software, yet even that was reported by only 60% of organizations. The list breaks down as follows from there: 
One item on this list particularly stands out. Note how educating employees about phishing scams ranks so low, at 48%. Compare that to the 61% of HR pros who said that human error, such as falling victim to a phishing attack, led to a cybersecurity breach. From there, more than half said that breach led to a financial loss.  
So, which of the above provides the underpinnings of a strong digital wellness benefit? The answer to that is "yes to all." And more. 
When it comes to digital wellness, it's easy to think of things like antivirus, a VPN, and other technology-driven solutions. Certainly, it's that. Yet it's much more. A strong digital wellness offering protects more than devices and things. It protects people. Because people are human, and human error can lead to security issues. 
Organizations have IT teams tasked with securing networks, data, and devices. They put protections and policies in place to protect technology. To some extent, they factor in the human element as well. Yet to fully factor in the human element, that calls for HR to partner with IT. Together they can build out a digital wellness benefit that complements the protections IT puts in place. 
Building out a strong digital wellness benefit.
Organizations can often roll out digital wellness initiatives at relatively low cost, yet they require support to get them started. That begins by making the case for digital wellness benefits with leadership.  
Throughout this series of articles, we uncovered how the post-pandemic world has transformed the way employees use the internet, the importance they place on digital wellness, and the reasons they welcome it as a benefit. We also pointed out that digital wellness finds itself as a top-three benefit in the wake of this new internet usage. Together, these articles can help you make the overarching case to leadership — illustrating that digital wellness is vital not only for organizational security, but for attracting and retaining talent as well. 
From there, working alongside IT can help you make the specific case for your organization, as part of a three-step approach: 
1. Partner with IT. 
IT leadership and teams in IT will have insight into the ways employees can improve their security habits. Moreover, they'll have a sense of which employee security issues are the most pressing. By forming these insights into a list, HR can prioritize initiatives. Then it can use its expertise in incentives, training, and communication to create a culture that minimizes security lapses. 
IT can assist HR in other ways, such as with auditing. HR teams can gain insight into the number of personal devices used in the organization. With that, we can advocate for initiatives that can protect them while they use those devices, such as offering online protection software. 
2. Offer comprehensive online protection software. 
Antivirus, personal data cleanup, and a VPN — HR pros mentioned those initiatives and several others on the list we shared above. Comprehensive online protection like ours covers all those initiatives and then some. All in one proverbial box. With deeper features like identity monitoring, transaction monitoring, and cleaning up old online accounts, it can form the cornerstone of a digital wellness benefit. And at relatively low cost per person. 
Moreover, comprehensive online protection can help address human error. McAfee Scam Protection uses artificial intelligence (AI) to combat those phishing attacks. It automatically detects scam texts and can block risky links in emails, social media, and more—which often lead to sites that steal sensitive and financial info. 
In all, today's online protection offers far, far more than antivirus. It protects the employee by protecting their devices, privacy, and personal info. 
3. Consider making digital wellness part of your core or voluntary benefits.  
Organizations that offer digital wellness as part of their benefits tend to be more confident in the security of personal devices. Among the HR pros who said they offer digital wellness as a core benefit, 78% felt that personal devices are very secure, compared to 64% of those with voluntary benefits, and 59% of those with no digital wellness benefits. 
At the root of that feeling is knowledge. Knowledge that employees are empirically safer from hacks, attacks, and identity theft because they have comprehensive online protection like ours. And should they become a victim of identity theft, they have a licensed identity restoration expert who can help them resolve it — and reimburse funds stolen per their protection plan. That puts employees in a better place. Which helps put the organization in a better place as well. 
Digital wellness is a part of wellness overall.
Digital wellness can reduce the stress that comes from loss or the unknown, which enables richer, safer, and happier lives. That puts digital wellness in close company with already established mental and financial wellness benefits, making it part of an attractive benefits package overall. Particularly as people spend nearly seven hours online each day on average — conducting sensitive personal and professional matters there at historic highs. 
Digital wellness is crucial for organizations as well. As our research uncovered, many breaches occur because of human error, which often leads to disruptions and financial losses.  
The case for digital wellness has only become stronger in recent years, and many organizations have taken their first steps to develop it as a benefit. As our research indicates, the organizations that do benefit as well. 
For more, see our previous articles in the series.
The Benefits of Protection – The Case for Digital Wellness in the Workplace 
The Benefits of Protection – Why Employees Place a High Value on Digital Wellness 
Want to learn more? Visit us at https://www.mcafee.com/en-us/resources/digital-wellness.html or reach out to EmployeeBenefits@mcafee.com. 
Stay Updated
Follow us to stay updated on all things McAfee and on top of the latest consumer and mobile security threats.