Authored by Yukihiro Okutomi 
McAfee's Mobile team observed a smishing campaign against Japanese Android users posing as a power and water infrastructure company in early June 2023. This campaign ran for a short time from June 7. The SMS message alerts about payment problems to lure victims to a phishing website to infect the target devices with a remote-controlled SpyNote malware. In the past, cybercriminals have often targeted financial institutions. However, on this occasion, public utilities were the target to generate a sense of urgency and push victims to act immediately. Protect your Android and iOS mobile devices with McAfee Mobile Security.
Smishing Attack

Campaign
A phishing SMS message impersonating a power or water supplier claims a payment problem, as shown in the screenshot below. The URL in the message directs the victim to a phishing website to download mobile malware. 

Notice of suspension of power transmission because of non-payment of charges from a power company in Tokyo (Source: Twitter) 

Notice of suspension of water supply because of non-payment of charges from a water company in Tokyo (Source: Twitter) 
When accessed with a mobile browser, it will start downloading malware and display a malware installation confirmation dialog.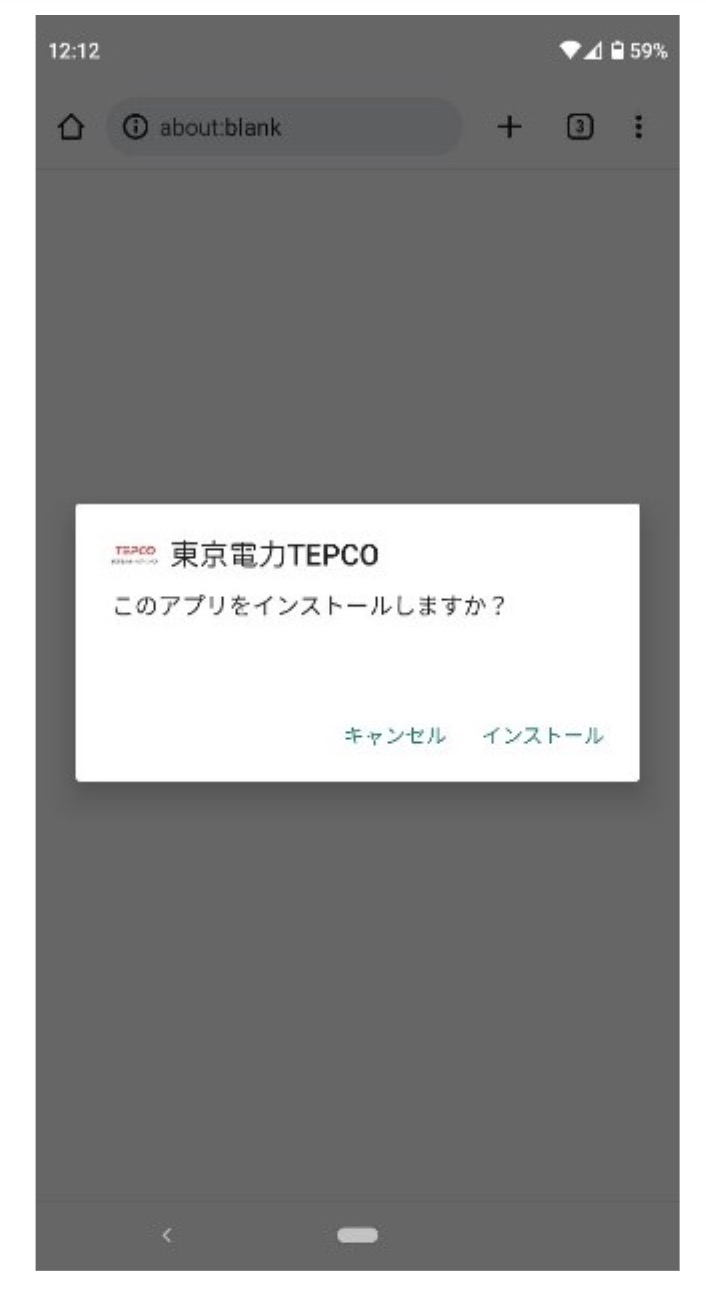 The confirmation dialog of Spyware installation via browser (Source: Twitter) 
SpyNote

malware
SpyNote is a known family of malware that proliferated after its source code was leaked in October 2022. Recently, the malware was used in a campaign targeting financial institutions in January and targeting Bank of Japan in April 2023.  
The SpyNote malware is remotely controlled spyware that exploits accessibility services and device administrator privileges. It steals device information and sensitive user information such as device location, contacts, incoming and outgoing SMS messages, and phone calls. The malware deceives users by using legitimate app icons to look real.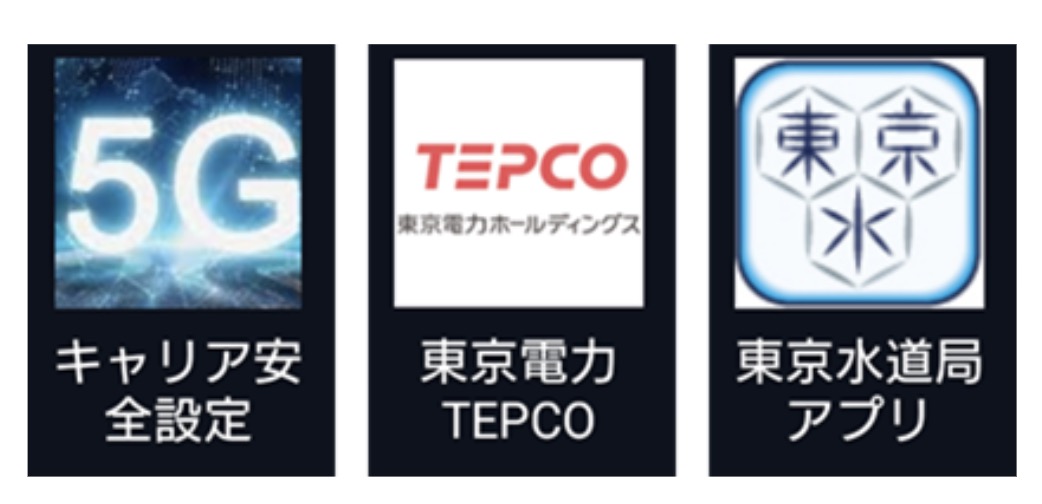 Application Icons disguised by malware. 
After launching the malware, the app opens a fake settings screen and prompts the user to enable the Accessibility feature. When the user clicks the arrow at the bottom of the screen, the system Accessibility service settings screen is displayed.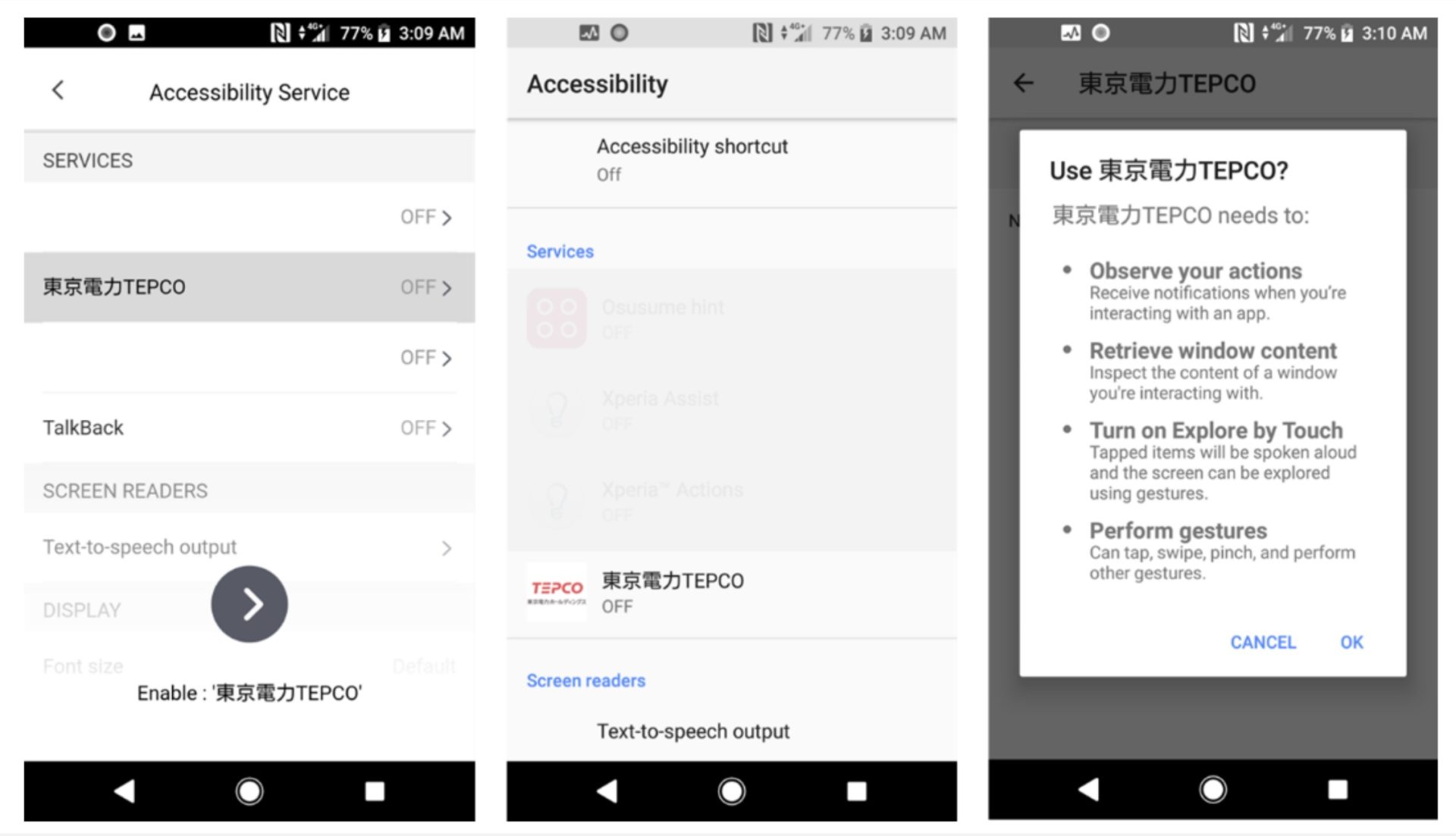 A fake setting screen (left), system setting screen (center and right) 
By allowing the Accessibility service, the malware disables battery optimization so that it can run in the background and automatically grants unknown source installation permission to install another malware without the user's knowledge. In addition to spying on the victim's device, it also steals two-factor authentication on Google Authenticator and Gmail and Facebook information from the infected device. 
Although the distribution method is different, the step of requesting Accessibility service after launching the app is similar to the case of the Bank of Japan that occurred in April. 
Scammers keep up with current events and attempt to impersonate well-known companies that have a reason to reach out to their customers. The mobile malware attack using SpyNote discovered this time targets mobile apps for life infrastructure such as electricity and water. One of the reasons for this is that electric bills and water bills, which used to be issued on paper, are now managed on the web and mobile app. If you want to learn about smishing, consult this article "What Is Smishing? Here's How to Spot Fake Texts and Keep Your Info Safe". McAfee Mobile Security detects this threat as Android/SpyNote and alerts mobile users if it is present and further protects them from any data loss. For more information, visit McAfee Mobile Security. 
Indicators of compromise (IoC)
C2 Server: 
Malware Samples: 
SHA256 Hash

 

Package name

 

Application name

 

075909870a3d16a194e084fbe7a98d2da07c8317fcbfe1f25e5478e585be1954

 

com.faceai.boot

 

キャリア安全設定

 

e2c7d2acb56be38c19980e6e2c91b00a958c93adb37cb19d65400d9912e6333f

 

com.faceai.boot

 

東京電力

 

a532c43202c98f6b37489fb019ebe166ad5f32de5e9b395b3fc41404bf60d734

 

com.faceai.boot

 

東京電力

TEPCO

 

cb9e6522755fbf618c57ebb11d88160fb5aeb9ae96c846ed10d6213cdd8a4f5d

 

com.faceai.boot

 

東京電力

TEPCO

 

59cdbe8e4d265d7e3f4deec3cf69039143b27c1b594dbe3f0473a1b7f7ade9a6

 

com.faceai.boot

 

東京電力

TEPCO

 

8d6e1f448ae3e00c06983471ee26e16f6ab357ee6467b7dce2454fb0814a34d2

 

com.faceai.boot

 

東京電力

TEPCO

 

5bdbd8895b9adf39aa8bead0e3587cc786e375ecd2e1519ad5291147a8ca00b6

 

com.faceai.boot

 

東京電力

TEPCO

 

a6f9fa36701be31597ad10e1cec51ebf855644b090ed42ed57316c2f0b57ea3c

 

com.faceai.boot

 

東京電力

TEPCO

 

f6e2addd189bb534863afeb0d06bcda01d0174f5eac6ee4deeb3d85f35449422

 

com.faceai.boot

 

東京電力

TEPCO

 

755585571f47cd71df72af0fad880db5a4d443dacd5ace9cc6ed7a931cb9c21d

 

com.faceai.boot

 

東京電力

TEPCO

 

2352887e3fc1e9070850115243fad85c6f1b367d9e645ad8fc7ba28192d6fb85

 

com.faceai.boot

 

東京電力

TEPCO

 

90edb28b349db35d32c0190433d3b82949b45e0b1d7f7288c08e56ede81615ba

 

com.faceai.boot

 

東京電力

TEPCO

 

513dbe3ff2b4e8caf3a8040f3412620a3627c74a7a79cce7d9fab5e3d08b447b

 

com.faceai.boot

 

東京電力

TEPCO

 

f6e2addd189bb534863afeb0d06bcda01d0174f5eac6ee4deeb3d85f35449422

 

com.faceai.boot

 

東京電力

TEPCO

 

0fd87da37712e31d39781456c9c1fef48566eee3f616fbcb57a81deb5c66cbc1

 

com.faceai.boom

 

東京水道局アプリ

 

acd36f7e896e3e3806114d397240bd7431fcef9d7f0b268a4e889161e51d802b

 

com.faceai.boom

 

東京水道局アプリ

 

91e2f316871704ad7ef1ec74c84e3e4e41f557269453351771223496d5de594e

 

com.faceai.boom

 

東京水道局アプリ

 
Stay Updated
Follow us to stay updated on all things McAfee and on top of the latest consumer and mobile security threats.